Legends of Norrath Preview: Ability Card Type
by Paul Dennen, Sr. Game Designer

Yesterday we talked about quests and how they are the heart of what the game is about. Today we'll take a look at ability cards, which are used to complete quests.

Yesterday's article mentioned that each player brings four quests to the game, of various levels: 2, 4, 5, and 6. Those level numbers are critical, as they determine just how hard it is to complete the quest. The higher the number, the harder the quest will be to complete.

Ability cards also have levels. You will use these levels to place level tokens on quests. When you have placed a number of level tokens on a quest equal to or exceeding that quest's level, you complete it. So, for example, a level-2 ability is enough, by itself, to complete a level-2 quest. But that same ability will only get you halfway toward completing a level-4 quest.

Let's take a look at today's preview card, an ability called Firiona's Blessing: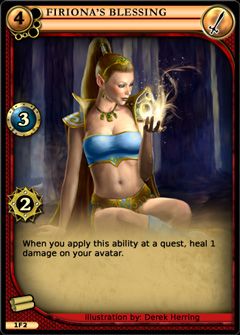 When you apply this ability at a quest, heal 1 damage on your avatar.

Let's walk through the elements of this card, step by step:

The "4" in the upper-left corner of the card represents the cost to play the card, measured in power. As we discovered yesterday, each player receives at least 3 power at the beginning of his or her turn. As such, 4 power is a relatively-expensive ability; most abilities will cost 2 or 3 power.

As was covered in the fighter preview article, the sword icon in the top-right corner represents that this card falls under the umbrella of the fighter archetype.

We also learned about the shield icon which represents the defense attribute. In the same way that an avatar can exert itself for defense, it can also exert one of its own abilities for defense. (Although note that not all abilities have a defense attribute.) Firiona's Blessing has a "3" for defense, which is really good. Apparently, when Firiona blesses you, she doesn't mess around.

The third number on the card, the "2" represents the level of the ability. It is the same icon that is used on quests.

The game text area, as always, indicates the special rules that the card introduces. In this case, Firiona's Blessing heals 1 damage on your avatar when you do decide to apply it to a quest. Pretty nice stuff. Thanks, Firiona!

Toward the bottom-left of the card is an icon that looks like a rolled up scroll. This is a lore button that you can click to swap back and forth between game text and lore. This button didn't exist on Seek the Adventurer's Stone preview because the game text and lore were short enough to fit together. But Firiona just had too much to say for this card, and rather than suffer the wrath of a misquoted high elf, we decided to include her full statement:

There are a couple final things to mention about the elements of this card. First of all, the "F" in the collector information represents that this is a "fixed" card. That means you won't find it in a booster pack. You will earn this card by defeating one of the 15 single-player scenarios.
To Quest or not to Quest
Back to game mechanics! The ability card type, like no other card type in the game, best exemplifies what I meant in the introduction article when I said that "LoN is a game of tradeoffs." This is because of how the core questing mechanics work. Let's go over them:
You have one quest phase at the beginning of your turn. It comes before your ready phase which is when all your exerted cards become ready to use again.
You can only quest if you have at least one ready ability with at least one level.
You must quest if you can. (Legendary heroes don't make their names by staying at home.)
When you do quest, you must choose one of your ready abilities to apply to a quest.
When you apply an ability at a quest, you create level tokens at that quest and discard that ability.

One of the most critical ramifications of these rules is that, during a round of play, you can only use an ability for its defense or for its levels. What this means is that you must often make a decision of whether to protect yourself or push forward. If the game was merely about eliminating avatars in combat, the decision would be a trivial one: protect myself. But since the game has two main victory conditions, the decision becomes interesting. You can trade health for quest advancement, or, conversely, trade quest advancement for health.

This decision is further complicated by the following rules:
Both players can attempt the same quest!
When a quest is completed, all opposing level tokens on it are destroyed for no effect.
In other words, just because you put Seek the Adventurer's Stone into your quest pile, doesn't mean you're going to be the player who finishes it. Quests simply provide the landscape for the game; they are not "working for" either player.

I left out these details in yesterday's article about quests because the full ramifications only become clear when you understand how abilities work. Now, you can start to see that the race to finish four quests can be a challenging one, as you and your opponent can apply abilities to the same quest. And just because you are the first player to put level tokens on quest does not mean you'll be the first to finish it!
All items (113)
A
B
C
D
E
F
G
H
I
J
K
L
O
P
R
S
T
U
W