Legends of Norrath Preview: Quest Card Type
by Paul Dennen, Sr. Game Designer

Questing is at the core of Legends of Norrath. The first player to complete four quests wins the game immediately, so completing quests and thwarting your opponent's quest attempts should be high priority for virtually all LON decks.

Quests are represented by a special card type. Here's an example: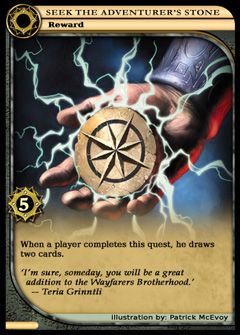 When a player completes this quest, he draws two cards.

Like the avatar card type and all other card types for that matter, quests have a title at the top and underneath that a traits line. In this case, the only trait is "Reward." A quick note about traits: traits are simply labels on a card; they have no inherent meaning. But they can be referred to by the game text on other cards.

The lack of an archetype icon, and the fact that this card's template is gray, indicates that this is a generic card that can be put into any play deck.

The icon on the left of the card is the level symbol, indicating that this card is a level-5 quest. I'll explain fully what that means tomorrow but, as you might expect, the higher a quest's level is, the harder it is to complete.

Finally, each quest has a unique piece of game text that distinguishes it from other quests. In this case, Seek the Adventurer's Stone has a piece of game text that is fairly self-explanatory: "When a player completes this quest, he draws two cards." Drawing additional cards is a good bonus effect in LON, so the player who does complete this quest will have a leg up on his opponent.
Quest Piles
A player's quests, unlike his or her other card types, are placed into a special quest pile at the beginning of the game. When building your play deck, you must include four quests in your quest pile, and they must be of four different levels. The quest levels are: 2, 4, 5, and 6.

At the beginning of the game, players reveal their level-2 quests and put them into play. The other three quests remain in the quest piles until quests are completed. This will mean that there are always two quests in play. Each time you complete a quest, you take your next quest from your quest pile and put it into play. You always put the lowest-level quest you have into play. So, when you solve one quest, you put your level-4 quest into play. When you solve a second quest, you put your level-5 quest into play. When you solve a third quest, you put your level-6 quest into play. When you solve a fourth quest, your quest pile is empty but you've won the game!
Keeping Score
Quests perform two critical components of gameplay. The first is that they are one of two methods of keeping score during the game. If you've completed three quests to your opponent's one, then you're ahead in that category. However, the other important score-keeping category is damage on avatars. You might be ahead on questing, but if your avatar card sustains damage equal to its health, your questing was for naught. Remember, you can win the game by completing four quests or defeating your opponent's avatar.
Power Escalation
The other critical component of gameplay that quests influence is the escalation of power. In yesterday's article we talked about Eluviel's special action and how it requires 3 power to activate. Power is the resource system in the game. Unlike many other trading card games, you do not need to include resource cards in your deck. Instead, you start with 3 power at the beginning of the game. And at the beginning of your turn, your power refills, so even if you spend 3 power on your first turn, you'll get a full new tank of power to work with on your second turn.

Furthermore, this power tank goes up as the game goes on. Specifically, each time a quest is completed -- by any player -- each player's power allotment goes up by one. I emphasized that part about any player because it's important. Even if your opponent is winning the quest race, your power still goes up. This ensures that players will get a chance to play their high-powered cards even if they are struggling to complete quests early in the game, and it prevents a rich-get-richer breakdown from occurring. from SOE LoN Website, Strategy Articles
All items (44)
A
B
C
D
E
F
G
H
J
M
N
O
P
R
S
T
V