Legends of Norrath Preview: Tactic Card Type
by Paul Dennen, Sr. Game Designer
Tactics
Tactics are even easier to understand. These are simply cards that you stock in your deck to affect key combats during the game. You can only play them during combat. When you do play a tactic, you simply execute its game text and then discard it.
Let's take a look at a tactic card. So the mage players won't feel left out, it's time to show a mage card: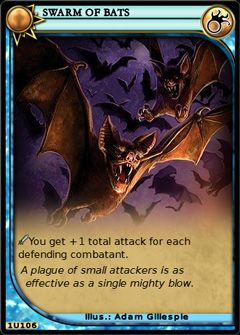 There are two interesting things to note about this card. First of all, note that it has no printed cost on the tactic icon in the top left corner. That means it's free, no power needed to play! You will find that it is a good idea to stock your deck with some of these no-cost cards because the power resource is a premium commodity: you probably won't be able to generate enough power to play all your cards if they all cost power.
The second thing to point out about this card is the sword icon at the beginning of the game text area. That icon simply means that you can only play this in combat while you are on the attack. This makes sense when you read the rest of the card, because the card is only useful when you are on the attack -- if you could play it while you are defending, it would do you no good anyway.
Swarm of Bats is a solid card for a mage avatar who doesn't want to be afraid of a large group of opposing units during the quest phase. The more defenders there are, the more useful your bats become!
All items (56)
A
B
C
D
E
F
G
H
I
K
L
M
O
P
R
S
T
V
W